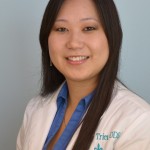 Dr. Trieu was born and raised in Falls Church, Virginia and moved to the greater New Orleans area in 1997 where she has resided ever since. She graduated from West Jefferson High School and proceeded to earn her bachelor's degree at Tulane University, graduating summa cum laude with honors in 2004. Dr. Trieu obtained her Doctorate of Dental Surgery (DDS) at LSU School of Dentistry in 2008 where she graduated as one of the top in her class. She continued her education at LSU and earned a Specialist Certificate in Orthodontics in 2010. Dr. Trieu is a member of the local, state, and national Dental and Orthodontic Associations. She is committed to delivering the highest quality orthodontic care and stays current with continuing education lectures.
Away from the office, Dr. Trieu enjoys spending time with her family and friends, traveling, playing tennis, singing, dancing and watching the Saints! Who Dat! Trieu Dat!
Education
LSUHSC School of Dentistry – Certified in Orthodontics
LSUHSC School of Dentistry – D.D.S.
Tulane University – B.S., Cellular Molecular Biology
Research
Streptococcus Mutans Bacterial Colonization on Orthodontic Wires at LSUHSC- 2008-2010
Tulane Molecular Biology Research Lab- 2002-2004
Received an NIH Grant for tooth stem cell research. Conducted experiments leading to the expression pattern of a gene; design a primer; extract RNA from tooth germ; perform reverse transcription procedure; ligate DNA plasmid to vector; grow colonies of bacteria; pick colonies; make an RNA probe; perform in situ hybridization.
Community Out Reach
Habitat for Humanity- Help build houses by performing a variety of tasks ranging from preparing vinyl siding, painting, roofing, putting up drywall, etc.
Help Clean Up Houses Damaged by Katrina- Help pull out wet and damaged carpet, remove and change drywall, clean up trash and move destroyed furniture.
Volunteer at the Odyssey House- Odyssey House is a live-in treatment center for recovering substance abusers who are learning to start over. Help provide companionship to the women through group activities such as: baking, crafts, and personal development exploration exercises.
American Red Cross, Maison deVille Nursing Home and Worked with Handicapped kids in Adapted PE Classes.
Professional Memberships
American Association of Orthodontists
Southwestern Society of Orthodontists
Louisiana Association of Orthodontists
American Dental Association
Lousiana Dental Association
New Orleans Dental Association
Awards
The Academy of Operative Dentistry Award for Oustanding Achievement in Operative Dentistry – 2008
Pierre Fauchard Academy Award for Outstanding Academic Achievements in Dentistry – 2008
Omicron Kappa Upsilon Honorary Dental Society, Member- 2005-2008
Kells Honor Society, Secretary/Treasurer – 2005-2008
Baldridge Scholarship – 2005-2007
ADA Foundation Scholarship – 2005
Beta Beta Beta Departmental Award for Honor Thesis- 2004
Ethel C. Young Newcomb Scholarship – 2002-2004
Gates Millennium Scholarship – 2000-2004
Rotary Club Scholarship – 2000-2004
Louisiana TOPS Scholarship – 2000-2004
Jefferson Dollars for Scholars – 2000-2004
National Institutes of Health (NIH) Grant – 2003